Take your distribution business to the next level
Growtrade provides you with tools and services that help you manage your operations better, provides credit lines to your buyers and make them come back more frequently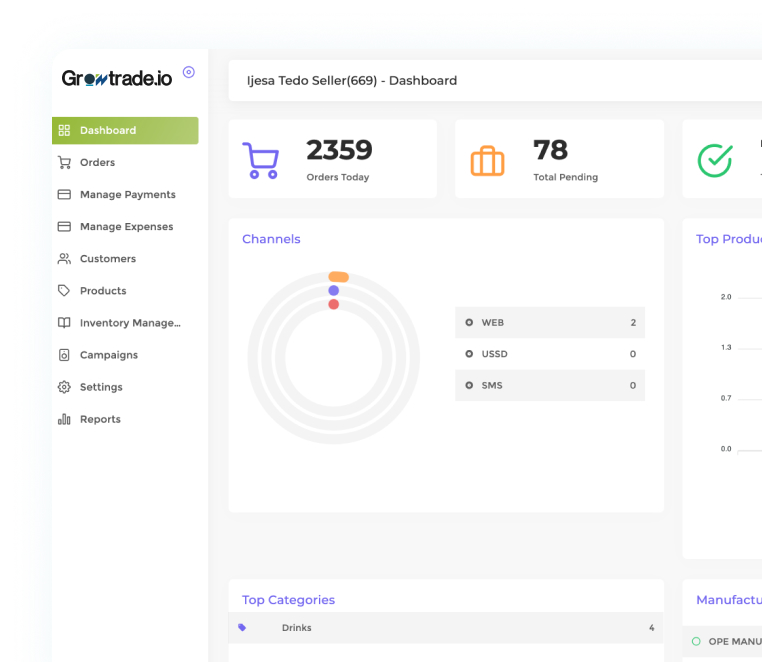 Sell more. Avoid stress
Whether you are a manufacturer, distributor or retailer, business should be smoother and growing
For Manufacturers
Now, you can have accurate insights and visibility into your distribution network. In realtime
Insights. Lots of it
See a real time feed of sales and field activities right from your desktop. As it is happening.
Plan promotions better
With the visibility and accuracy that Growtrade brings, now you can plan sales activities better
Downline efficiency
Improved business operations of your distributors will drive more efficiency in your network
---
For Distributors
The complete solution to make your sales network buzzing, active and keep your buyers coming back more frequently
Sales Support
We won't only provide digital tools with which your buyers place orders faster, we will also provide the support to take those orders and drive sales
Efficient payments
Say goodbye to messy nightly reconciliations. With smooth payment workflows, all cash that you receive will be auto-reconciled
Credit and Benefits
Your buyers are always asking for credit. Our integrated partners will provide it! And more banking services that are loaded with benefits
---
For Retailers
Never, ever run out of inventory again. Never close shop to 'go to the market
Fast Ordering
With just a text message or a chat, you have placed your order and it's on the way
Banking services
Now you can get your airtime at a discount, send money at lowest costs, maybe even start a small financial services business on the side
Need credit? It's here!
We have integrated lending partners that can cover the cost of your inventory when you need it
All aspects of distribution management
We have all the bases covered. Growtrade will help you cut down lost time and complex processes
Customer relations
Know who buys from you and track retention intelligently
Inventory Management
Keep track of your inventory and avoid stock out
Order Management
Take orders digitally. Fulfil orders digitally
Smooth payments
Eliminate cash handling with Growtrade's embedded payments
Credit. More credit
Avoid stockout. Growtrade's lending partners will help to plug the gaps
Accounts with benefits
Send money for less. Buy airtime for less. Many more
Let's Get
Started
Send us a Message